Enterprise High School Cheerleaders
EHS will hold a mandatory parent/student meeting for any 8-11th grade student interested in trying out for cheerleading or mascot on Thursday, March 6 at 5:30 in the EHS cafeteria. We will have a 9th grade squad, a Varsity squad and Mr. Wildcat. Tryouts will be held on March 19-21. If you have any questions, please contact Valerie Nelson at vnelson@enterpriseschools.net.

CONGRATULATIONS to the EHS Competition Team for their wins in Nashville.
National Champions - Intermediate Coed
Grand Champions - School Division
2013-2014 Competition Team
John Mark Baker
Kayla Blevins
Elizabeth Brunson
Danielle Butler
Mary Beth Carmichael
Madison Gallinger
Jacob Garcia
Alannah Hill
Breana Johnson
Sabrina Klusacek
Savannah Maddox
Kathleen Moore
Delaney Mulcahy
Ashley Powell
Delaney Reynolds
Courtney Severino
Jessica Sneed
Sheyenne Wright
Alternates:
Lauren Guy
Kyle Parsons
Mollie Sawyer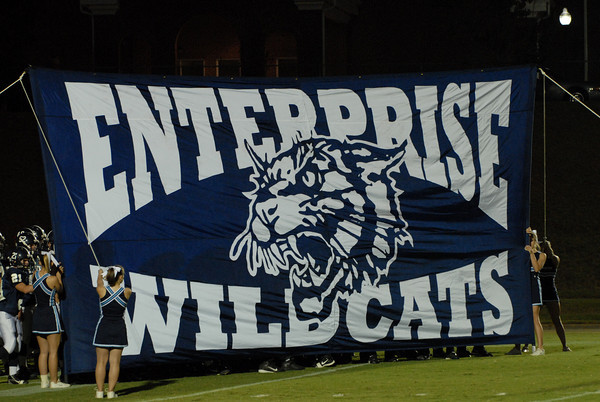 Parents are encouraged to view the following powerpoint - "What Every Parent Should Know About AHSAA Eligibility Rules" http://www.ahsaa.com/Portals/0/Power%20Point/AHSAA%20Eligibility%20Rules.swf
2013 - 1st place Cheer Nationals at Opryland - Varsity Coed Intermediate
2013 - 1st place Cheer Nationals at Opryland - Grand Champions School Division
2013 - 1st place Cheersort Birmingham - Level 3
2012 - 1st place Cheer Nationals at Opryland - Nashville - Coed Level 3
2012 - 3rd place Cheersport - Birmingham - Level 3
2011 - 1st place Cheersport - Birmingham - Level 3
2010 - 2nd place Cheersport Nationals - Atlanta - Level 3
2010 - 2nd place Cheersport - Birmingham - Level 3
2009 - National Champions - WCA - Nashville - Level 3 Coed
2009 - 1st place Cheersport - Birmingham - Level 3
2009 - Best in Level 3 - Cheersport - Birmingham
2008 - 3rd place Cheersport - Birmingham - Level 4
2008 - National Champions - WCA - Nashville - Level 3 Coed
2008 - Level 3 Grand Champions - WCA - Nashville
2007 - 1st place - Cheersport - Atlanta- Level 4
2007 - 1st place Cheersport - Birmingham - Level 4
2007 - National Champions - WCA - Nashville - Level 4 Coed
2007 - Level 4 Grand Champions - WCA -Nashville